In today's digital age, the need for robust cybersecurity solutions is more critical than ever. But what if we told you there's a tool that not only elevates your business's security but also streamlines network management and enhances remote access?
Enter NordLayer Cloud VPN—a game-changing solution tailored for businesses of all sizes. Whether you're an SMB looking for affordable security or an enterprise in need of scalable solutions, read on to discover how NordLayer's Cloud VPN can revolutionize the way you do business.
| | |
| --- | --- |
| 🛡️ Top-Tier Encryption: | Ensuring your data remains private and secure |
| 🔐 Privacy Assurance: | Absolutely no logs kept |
| 🖥️ Servers: | Servers across 30+ nations |
| 💵 Affordable Rate: | Starting at just $7.00/month |
| 🏢 Business-Ready: | Tailored solutions for companies of all sizes |
| 🤖 Seamless Integration: | Effortlessly blends with corporate infrastructure |
| 🎉 Special Offer: | Grab the NordLayer deal – 22% OFF now! |
| ⭐ Rating: | 4.7 out of 5 |
What is NordLayer?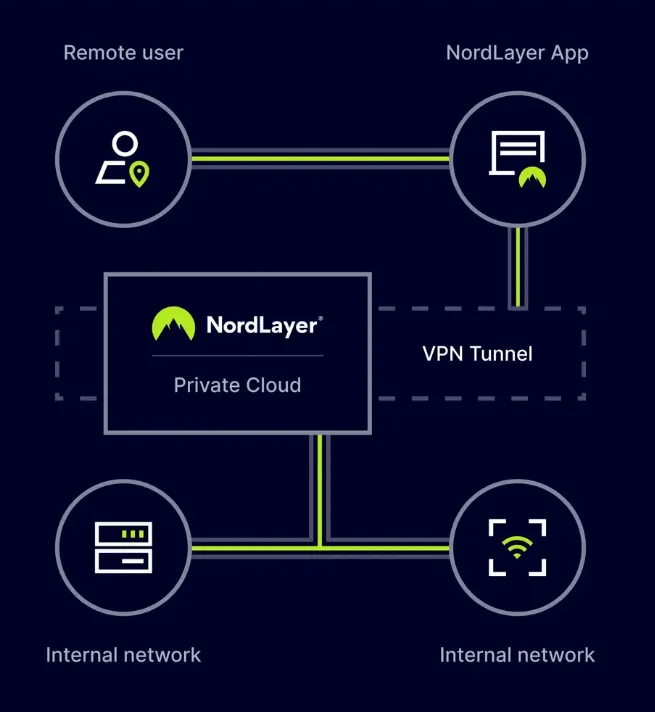 NordLayer is not your average cybersecurity tool; it's a specialized Cloud VPN solution designed for the business landscape. Offering features like secure data transmission and IP allowlisting, NordLayer focuses on both flexibility and robustness.
Built to accommodate businesses of any scale, it offers a unique blend of simplicity and power, making cybersecurity less of a chore and more of a strategic advantage.
Read More: NordLayer Review: Is It The Ultimate Business VPN Solution?
Read More: Stopping Ransomware Attacks with NordLayer
Importance of Cloud VPN in Modern Business
In a world where remote work is the new normal and cyber threats are ever-evolving, Cloud VPNs have become a cornerstone for modern businesses. They not only encrypt data traffic but also offer secure remote access to critical business resources.
NordLayer takes this a step further, providing dedicated servers for improved latency and enabling IP allowlisting for controlled access. The bottom line? A Cloud VPN isn't a luxury; it's a necessity for secure, efficient operations.
Key Features of NordLayer Cloud VPN
NordLayer Cloud VPN enables secure cloud adoption by extending robust connectivity, protection, and controls to critical cloud workloads accessed remotely. Here are the key features of NordLayer's Cloud VPN capability:
Extends network to cloud: Creates a secure connection between the company's on-prem environment and resources hosted in the cloud.
Site-to-site connectivity: Establishes VPN tunnels between cloud platforms like AWS, Azure, and the company's NordLayer gateways.
Secure remote access: Remote workers can securely access permitted cloud resources through the encrypted VPN tunnel from anywhere.
AES 256 encryption: Military-grade encryption applied to all data transiting the VPN tunnels shields traffic from the public internet.
Dedicated IP address: Fixed IP address assigned to the Cloud VPN gateway aids in allowlisting and access control.
Scalable connectivity: Cloud VPN architecture is optimized to handle the growing bandwidth needs of the remote workforce securely.
Fine-grained controls: Set granular controls based on user identity and roles to restrict what resources remote users can access.
Protection from threats: Advanced threat prevention capabilities block malware, and phishing attacks over the encrypted tunnel.
Simple to manage: Easy-to-configure and manage VPN connections through NordLayer's intuitive interface.
Compatible and reliable: Seamlessly extends network security policies to leading cloud platforms like AWS, Azure, and Google Cloud.
Advantages of Using NordLayer Cloud VPN for Businesses
NordLayer Cloud VPN simplifies secure remote access to the cloud – enabling workforce mobility while providing air-tight data security. Here are the key advantages of using NordLayer's Cloud VPN solution for businesses:
Secure cloud adoption: Safely extends internal network security policies to cloud platforms like AWS, Azure, and GCP.
Remote workforce productivity: Employees can securely access cloud workloads from anywhere over fast, resilient VPN connectivity.
Reduced attack surface: Critical cloud resources are hidden from the public internet behind encrypted VPN tunnels.
Fine-grained access controls: Granular identity and role-based controls determine remote user access privileges.
Protection of data in transit: VPN tunnel encrypts all traffic between cloud and remote users to prevent snooping.
Cost savings: Eliminates the need for complex hardware VPN infrastructure by using NordLayer's cloud-based VPN gateways.
Easy to manage: The intuitive interface provides a single dashboard to configure and manage VPN connections across different clouds.
Reliable connectivity: Leverages NordLayer's global private network of servers to provide ubiquitous access.
Scalable performance: Cloud-optimized architecture allows VPN throughput to scale seamlessly along with remote workforce size.
Simplified compliance: Centralized VPN controls assist in meeting compliance requirements around data protection.
How to Set Up NordLayer Cloud VPN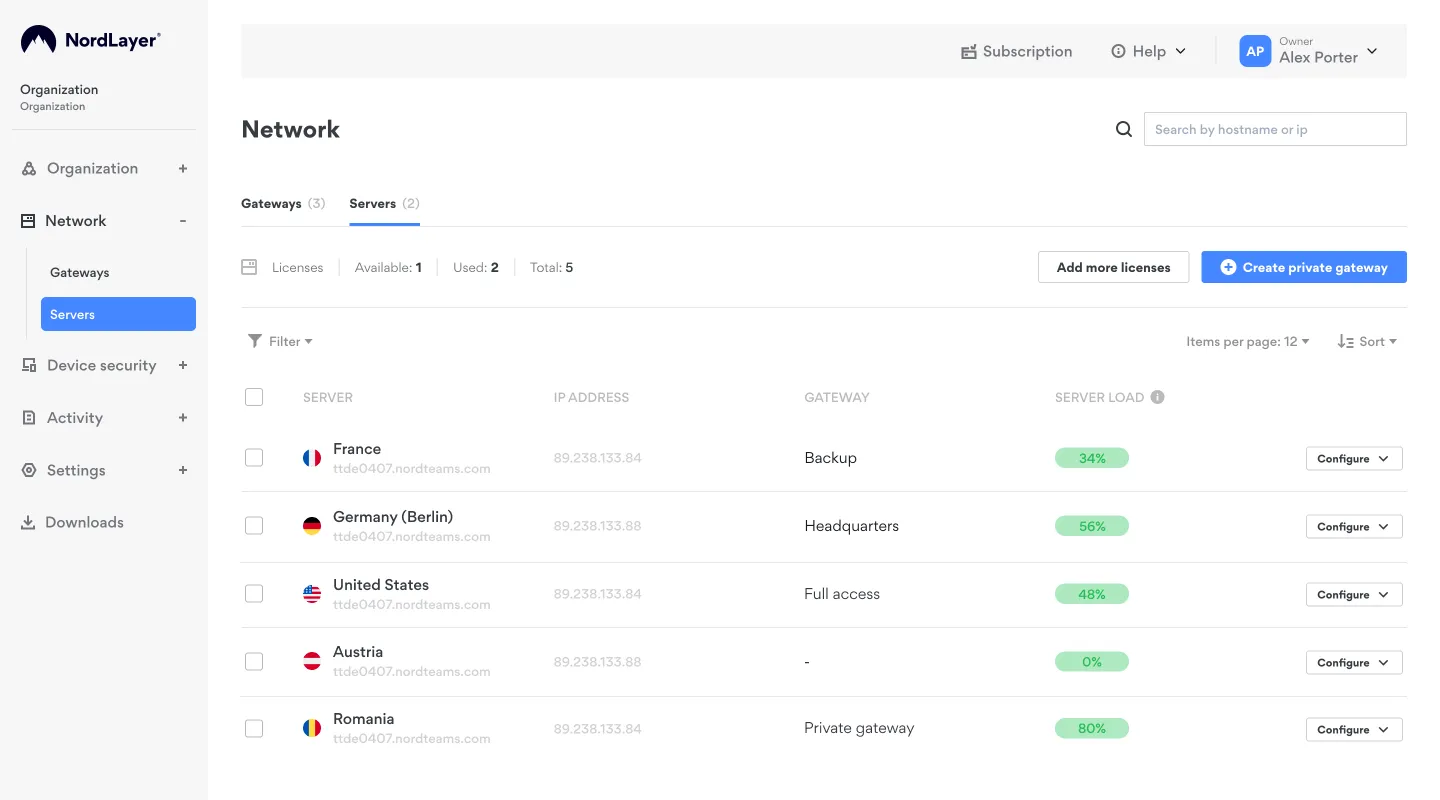 With these steps, you can leverage NordLayer's Cloud VPN to securely extend connectivity between your cloud-hosted environment and remote users. The encrypted tunnel protects data in transit.
Get a subscription plan: Cloud VPN capability is included with the Advanced and Custom subscription plans.
Deploy infrastructure in cloud: Set up your workloads and resources on a cloud platform like AWS, Azure, GCP etc.
Create virtual private gateway: In the NordLayer control panel, create a virtual private gateway which will be the VPN endpoint.
Assign static IP address: Allocate a fixed IP address to the gateway to identify it consistently. This also aids in allowlisting the IP.
Configure VPN tunnels: Set up site-to-site VPN tunnels between the cloud environment and NordLayer gateway using IPSec or other protocols.
Set access controls: Define granular access control policies determining which users/teams can access the cloud resources through the VPN tunnel.
Download VPN config files: Generate and download the VPN client configuration files tailored to different platforms like Windows, MacOS, iOS etc.
Install NordLayer app: Users install the NordLayer VPN client app on their devices and import the configuration.
Connect to Cloud VPN: Users launch the app, log in to their NordLayer account, and connect via the Cloud VPN gateway to access permitted cloud resources securely over the encrypted VPN tunnel.
Case Study: Businesses Thriving with NordLayer's Cloud VPN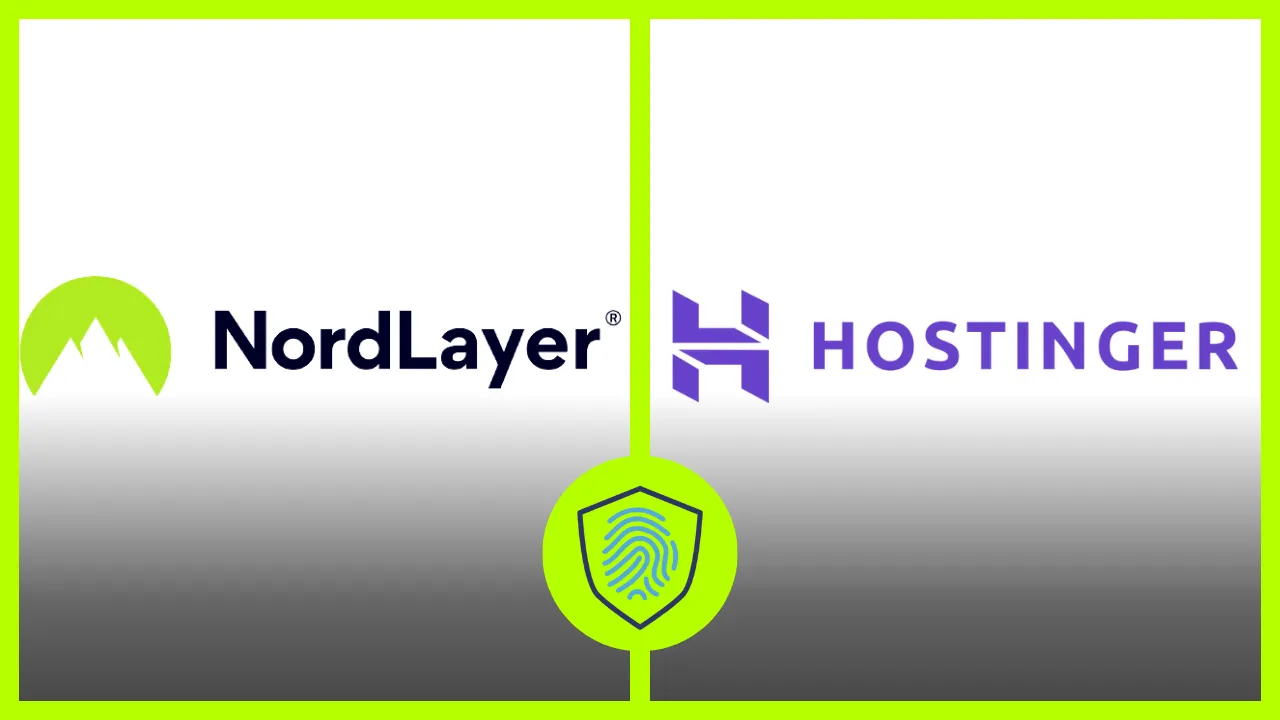 Hostinger – Hosting Provider Secures Remote Workforce Overnight
Hostinger is a hosting provider with over 1,000 employees distributed across 54 countries. When COVID-19 hit, Hostinger had to urgently transition its traditionally office-based workforce to remote work. However, their VPN solution could not scale to support the surge in remote connections required.
They quickly deployed NordLayer's cloud-based VPN which provided:
Easy and rapid rollout – remote team was onboarded overnight
Scalable infrastructure to support 1,000+ employees
10 virtual private gateways to segment access by region and team
Encrypted connections to company resources over the public internet
Remote access from any device or location
With NordLayer's VPN service, Hostinger was able to securely connect its entire global workforce in just one night. The cloud infrastructure scaled seamlessly while the centralized control panel simplified access management. Employees could securely access internal tools and data needed to deliver Hostinger's services efficiently despite lockdowns and location changes.
NordLayer's combination of speedy deployment, scalability, strong encryption, and intuitive controls enabled Hostinger to rapidly adapt to remote work during uncertain pandemic times. The future-proofed VPN solution continues to provide secure remote access as the workforce stays distributed.
Pricing and Plans
NordLayer offers flexible and scalable subscription plans to suit different business needs:
Basic: Starts at $7 per user/month billed annually. Provides core remote access security like encrypted VPN, threat prevention, and activity monitoring. Ideal for small teams.
Advanced: Starts at $9 per user/month billed yearly. Adds capabilities like dedicated IP servers, network segmentation, and compliance tools. Best for growing companies.
Custom: Enterprise-grade fully customizable plan with a dedicated account manager and premium support. For complex business environments.
Server Add-ons: Dedicated IP servers can be purchased optionally starting at $40/month to create private gateways for advanced features.
NordLayer's transparent and competitive pricing ensures businesses of all sizes can find a plan that fits their budget and security requirements.
Conclusion
Choosing the right Cloud VPN can be overwhelming, but NordLayer makes the decision easy. With its user-friendly interface, it takes the stress out of network management. More than just a VPN, it offers IP allowlisting and dedicated servers to reduce latency.
The result? Secure, high-speed access to your essential business tools, anywhere, anytime. Don't just protect your business—empower it. Sign up for NordLayer and experience cybersecurity as it should be.
| | |
| --- | --- |
| 🛡️ Top-Tier Encryption: | Ensuring your data remains private and secure |
| 🔐 Privacy Assurance: | Absolutely no logs kept |
| 🖥️ Servers: | Servers across 30+ nations |
| 💵 Affordable Rate: | Starting at just $7.00/month |
| 🏢 Business-Ready: | Tailored solutions for companies of all sizes |
| 🤖 Seamless Integration: | Effortlessly blends with corporate infrastructure |
| 🎉 Special Offer: | Grab the NordLayer deal – 22% OFF now! |
| ⭐ Rating: | 4.7 out of 5 |